We are sheep and beef farmers and are proud of the livestock and farm. Farming varies on a daily basis depending on the weather, season and other factors. In the winter and spring we are busy lambing our sheep. With the summer sunshine, our crops mature and in the autumn we harvest them. It's always busy on the farm and there is lots to see!
From December through to April, as we are busy with the sheep as it's lambing season. We lamb 350 ewes and most have twins, so there are lots of new faces at Hele Payne!
If you are booked to stay with us in the spring, you are welcome to come and help feed our pet lambs.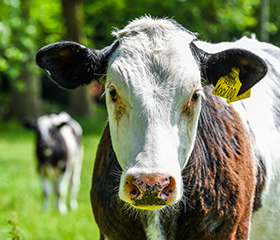 We also have a herd of cattle including some young calves. You will see these in our fields enjoying the luscious green grass and sunshine.
We all love eggs in the morning and that's why we've got a few chickens on the farm. You are welcome to meet them and pick up some of the eggs.
The River Culm runs through one of our fields at Hele Payne. As we have the private fishing rights you are welcome to go fishing.
There are all different types of fish in the river and so it is classed as coarse and game. The conservation area is also a perfect picnic spot!